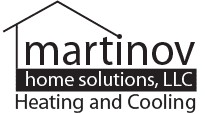 Martinov COVID 19 Message
Message to Our Customers
Martinov Home Solutions is here for you during this trying time.  Although "stay at home" orders made by the Governor of Ohio shut down many businesses in Ohio that are deemed nonessential, all "Plumbing, HVAC and Building Maintenance" companies are considered essential businesses. Therefore, during "stay at home" orders we are able to help you with all your heating and cooling needs.
Your safety and health are important to us. We want to share with you the steps we have taken as a trusted company to protect our team members, customers and community:
As suggested by the governor, each technician is taking their temperature every morning before coming to work to assure that they are healthy and are showing no symptoms.
Our technicians and staff are practicing extra hygiene protocols, such as washing hands before entering jobs and upon leaving jobs, sanitizing iPads, and limiting contact with customers as much as possible.
Our dispatch and office teams are social distancing and working from home but still providing great service to our customers and each other.
We've minimized all in person meetings to stop the spread of germs.
We are also asking additional questions when you call in, in order to ensure the safety of your home for our technicians and the safety of you.
On a final note, as HVAC professionals we understand the importance of indoor air quality, especially during times like these. Make sure to change your HVAC filters regularly. Home Depot, Lowes and other home improvement stores are also considered essential businesses and are open for business.
We hope our COVID-19 related policies ease some of your concerns. Feel free to call us at (330) 283-4188 or email bane@martinov-homesolutions.com. We know how difficult this time is for everyone right now, please don't hesitate to contact us if you need any HVAC related assistance!